DAVE SINCLAIR
USA Today bestselling novelist
Dave Sinclair is a USA Today bestselling author, screenwriter and a really excellent parallel parker. Author of the Mason Nash, Atticus Wolfe, Charles Bishop & Eva Destruction novels and snarky Post-It notes.
The different series have distinct main characters, but do manage to slip into each other's series now and then.
Find out more about the first book in each series below.
You can stalk Dave at all these semi-reputable places:
Retired spy. Trained killing machine. Pacifist.
Retired MI6 spy Mason Nash moved to a sleepy English town so he could leave his former violent life behind.

He soon learns that past transgressions have a way of catching up with you.

When hired killers invade his peaceful new existence Nash is forced to fall back on his old ways to find out who sent assassins after him and why.

What he uncovers sends him on a globetrotting quest involving old friends, a new clandestine spy agency and a world-wide conspiracy where no one is quite who they seem.

Nash finds out how hard it is to adhere to non-violent ways when everyone is trying to kill you.

A page burner of a novel full of action and wit, Past Transgressions is definitely not your regular espionage thriller.
Atticus Wolfe is a man out of time.
As an MI6 spy in 1963, Atticus Wolfe should be enjoying everything the swinging sixties has to offer.
But he's not.
That's because Atticus Wolfe is from the 21st century.
Accidentally torn from present day and flung into 1960s London in the midst of a cultural revolution, Atticus must acclimatise to a time not his own.
Although, not everything is unfamiliar – like finding a mole inside MI6.
Atticus must hunt a clandestine Soviet agent on the front lines of the Cold War, find the terrorist who inadvertently sent him back in time and maybe, just maybe, find a way home.
A fast-paced adventure with whip smart dialogue and twists you won't see coming, Out of Time is like no spy story you've read before.
You've never met a spy like this before!
When the Turkish ambassador crashes his car in central London, the incident launches an unforeseeable series of catastrophic events—and a naked body. MI6 spy Charles Bishop flies headfirst into intrigue, gun battles and assassinations.
He's on the hunt for a mysterious and powerful arms-dealing organisation named Kali—and they have him squarely in their sights. Along the way he falls for a mysterious woman who may just be the death of him.
Fast-paced with whip-smart dialogue and twists at every turn, Kiss My Assassin is the very definition of unputdownable.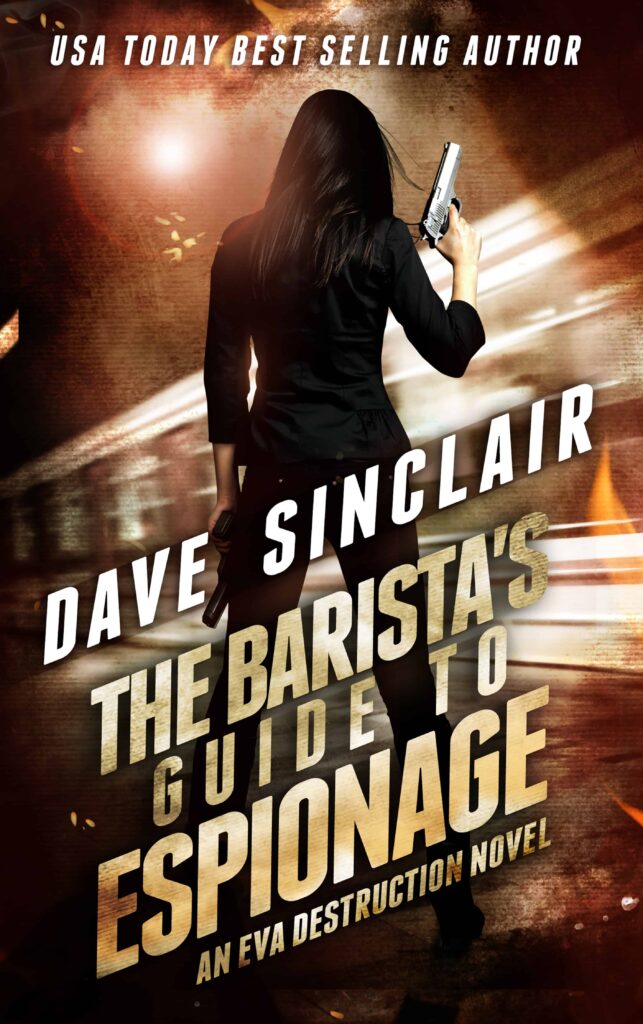 Better shape up Bond. There's a new girl in town and she's come to kick some ass.
Meet Eva Destruction, the only thing quicker than her mouth is her talent for getting into trouble. It's true she's always had an eye for a bad boy but when she falls for billionaire super-villain Harry Lancing, it seems that even Eva may have bitten off more than she can chew. Eva hurtles headlong into terrorist attacks, assassinations, car chases and the occasional close encounter with a dashing spy who seems determined to charm Eva into bed as he is to thwart Lancing's plans to bring down every government on Earth.
As the odds begin to stack up in Lancing's favour the fate of the world lies in Eva's hands. Luckily for the world, Eva Destruction isn't the type of girl to let a super-villain ex-boyfriend with a massive ego, unlimited resources and his own secret island get the better of her.
Start a series today: